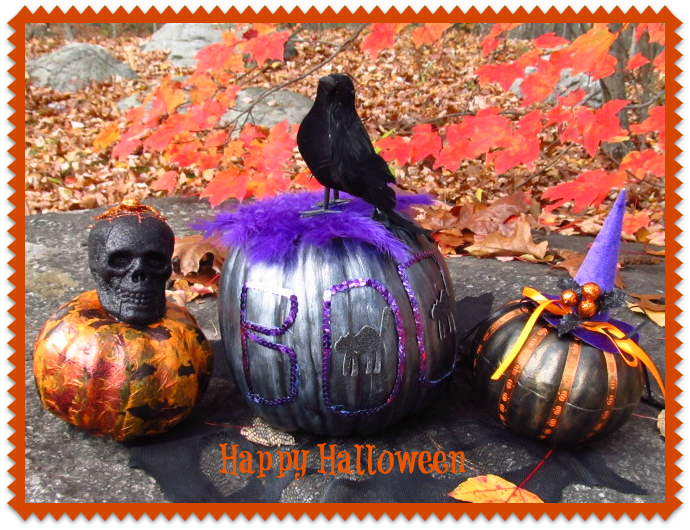 Halloween
is fast approaching and a great time for the family to join together and have fun carving the all mighty Pumpkin. I love Halloween decorations, especially Decorative Pumpkins.
I must confess, I am not a fan of carving pumpkins; a sometimes labor intense task. Do not get me wrong; some carving inspirations found on the web are just awesome. Last Saturday, I attended the Pumpkin Festival in Keene, N.H., the carvings were just amazing. Go
HERE
to take a look at some of the pictures I took at the Festival.
This year, I decided to decorate Craft Pumpkins and I just love how cute these pumpkins turned out.

To begin, I gathered the following materials:
Materials:
2 small and 1 large Craft Pumpkins. Purchased the small ones at the Dollar Store and the large one at my local Thrift shop
Halloween Tissue Paper
Plaid Folk Art Metallic Acrylic Paints. I used Pure Gold and Pearl White
Fine Glitter - I used Martha Stewart's Carnelian/Red Orange
Halloween Picks. I choose a Skull, Witch's Hat and a Black Crow
3/8" decorative ribbons. I used Pumpkin print and sequins
Purple Feathers
Mod Podge
Spray Paint, I used Design Master Color Tool Spray in Flat Black; purchased at Michaels. When Spray painting foam Pumpkins make sure the Spray Paint is formulated for Styrofoam
Foam brush
Black felt
Hot glue gun & sticks
Elmer's Craft Bond glue pen
Directions:
Cut pumpkin's stem with a serrated knife. Spray paint all the pumpkins. I gave mine 3 coats. Let dry completely.
Skull Pumpkin:
Tear Tissue paper into small strips.
Apply one coat of Mod Podge to pumpkin.
Begin adding the tissue paper strips; smoothing the surface as you go to remove any air bubbles.
Continue adding Mod Podge and paper strips until pumpkin is covered.
Let dry 10-15 minutes
Apply a final coat of Mod Podge all over the pumpkin and sprinkle glitter all over while the pumpkin's surface is still wet.
Let pumpkin dry completely.
Remove the stem from the Skull pick. Using hot glue gun, attach to pumpkin's top section.
Witch's Hat Pumpkin:
Apply a thin coat of the Pure Gold Metallic paint over the entire pumpkin. Let dry completely.
Begin wrapping ribbon around the pumpkin in a crisscross fashion from side to side; tacking ribbon with Elmer's glue.
Continue wrapping and gluing ribbon until your pumpkin has ten ribbon strips.
Trace and cut 2 small circles from black felt. Using hot glue gun, apply the circles to pumpkin's top and bottom centers. The felt circles will prevent the ribbon crossings from slipping.
Remove the stem from the witch's hat and glue to pumpkin's top section.
Purple Feathered Pumpkin:
Apply a thin coat of Pearl White Metallic paint all over the pumpkin. Let dry completely.
Using the sequin ribbon, create and glue the word

"BOO"

onto the pumpkin's front section.
Apply feathers to pumpkin's top using the hot glue gun. Let dry.
Glue the black crow onto the feathers. Let dry.
Finally apply other embellishments inside the letters

"O".


I used glittered cat cutouts.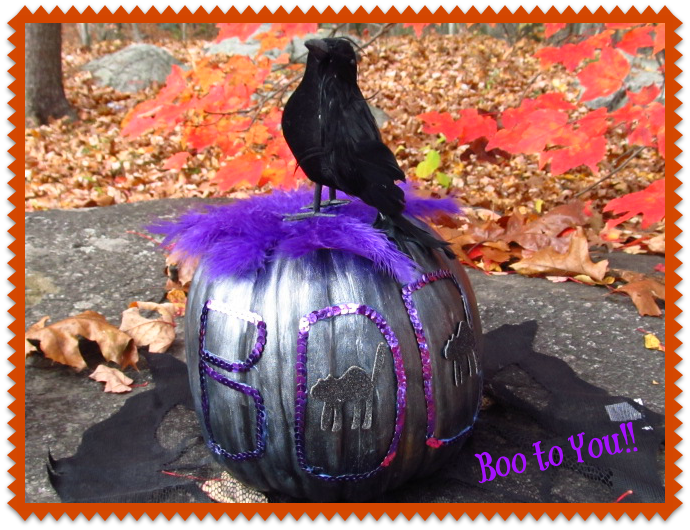 Although Pumpkin carving is a Halloween tradition for most people, there are other ways to decorate a Pumpkin without carving it.
I just love how my Pumpkins turned out. They were easy and fun to decorate, and most of all; I save time and money by using these Craft Pumpkins.
Linking to:
Today's Creative Blog
debbie-debbiedoos
Every Day is an Occasion