For this fun swap, a Mason Jar must be decorated and filled with five of my favorite craft supplies and/or leftovers.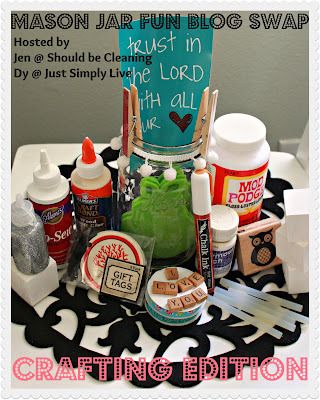 The Hosts are:
Jen @

Should be Cleaning
Dyanna @

Just Simply Live
Materials:
Glass Mason Jar. I purchased a "Ball" Smooth Jar at ACMoore.
Mod Podge
Foam Brush
Scrapbooking Paper
Paper Trimmer or Scissors
Twine
Tag
Country Clip Art (Roosters, Stars, etc.)
Directions:
Remove the jar's lid, set aside.
Print and trim your images.
Apply a thin layer of Modge Podge to one side of the Mason Jar.
Carefully, apply your images. Smooth any wrinkles with your fingers.
Repeat on other side. Let dry 10-20 minutes.
Apply 1-2 more coats of Mod Podge all over the jar to seal the design surface. Let dry completely.
Measure around the jar's band; about 11" long x 1/2" wide.
Using these measurements, cut the band strip from the scrapbooking paper.
Glue scrapbooking strip around the jar's band.
Place the jar lid on back side of scrapbooking paper or choosen clip art and trace around lid. Cut out paper circle on traced line.
Place jar lid on jar. Twist on jar band.
Attach the gift tag to the jar using a piece of Twine.
My crafing items included Acrylic Paints, Foam Brush, Washi-Tape, Embroidery Floss.
The Mason Jar is now filled with all the crafting goodies.
I hope Kim likes my country theme Mason Jar. I enjoyed this swap and looking forward to others in the near future.
Live Well, Love Much, Laugh Often
Linking to:
Today's Creative Blog
debbie-debbiedoos