I enjoy Knitting I-Cords. Making an I-Cord could be a bit intimidating as it requires knitting using two Double-Pointed Needles. An I-Cord is quick and very easy to make. To learn how to Knit an I-Cord, visit
The Purl Bee
, one of my favorite Blogs. Here you can find a wonderful Tutorial on how to Knit an I-Cord.
I love knitting with
Clover Takumi
Bamboo Knitting Needles, available at most Craft stores like Michaels and ACMoore. An I-Cord is a Knitted Tube and can be as long as you like. It can be made using any yarn, just make sure you choose the correct Knitting Needle size for the specific choosen yarn. I-Cords are fun to make and can be use in all sorts of things; from a Bag Strap to Making Spiral Flowers.
I found a Heart Shape Wire Form in my stash which I purchased years ago. I figure why not use it to make a
Valentine's Day Wreath.
I also decorated the wreath with tiny Crochet Hearts using the wonderful tutorial from
Julia Crossland's
Teeny Tiny Heart Bunting.
My I-Cord was made using
Three
strands of yarn held together, which resulted in a more dense tube. If you can't find this type of Wire Form, you can make your own Heart Shape using a piece of Garden Wire. Go
HERE
to find the tutorial.
Let's get going!!!
Supplies:
Worsted Weight Yarn in 3 colors of your choice. For this project I used Patons-Classic Wool in Aran, Petal Pink and Bright Red.
Double-Pointed Knitting Needles - Size 13(9.0mm)
Heart Shape Wire form
Flexible Floral Wire, available at the Dollar Store - $1.00
Crochet Hook - Size H/8 (5.0mm)
Small/Medium Heart form
Pair of Pliers
Yarn Needle
Instructions:
Holding 3 strands together, Cast on 6 stitches.
Knit across all stitches
Following the

I-Cord Tutorial

, continue knitting rounds, until you reach the length needed to go around the Heart Wire Form. Your I-Cord will be similar to the ones shown below.
Once you reach the required length, bind-off your stitches. Set the I-Cord aside for now to assemble later.
To decorate the I-Cord, I crocheted three tiny hearts. I used the wonderful tutorial from Julia Crossland, alternating the yarn colors to crochet the middle and sides of the Tiny Hearts.

To assemble the wreath, the Heart Wire Form was inserted inside the I-Cord tube as shown below. Sew the hearts ends together, covering any exposed wire.
Sew the Tiny Hearts around the wreath as you like.
I was debating what to use to hang the wreath. Another trip to the Dollar Store lead me to purchase a package of flexible Floral Wire, the perfect item to make my own Hanger.
Begin with your small Heart form. It could be a cardboard heart shape, a cookie cutter. I used a Crayon Heart shape I had from my project Pinterest Challenge.
Take a piece of wire and wrap it around your small heart form. Cut ends with pliers and wrap around to hold in place
Sew hanger onto the Wreath.
You are done!!!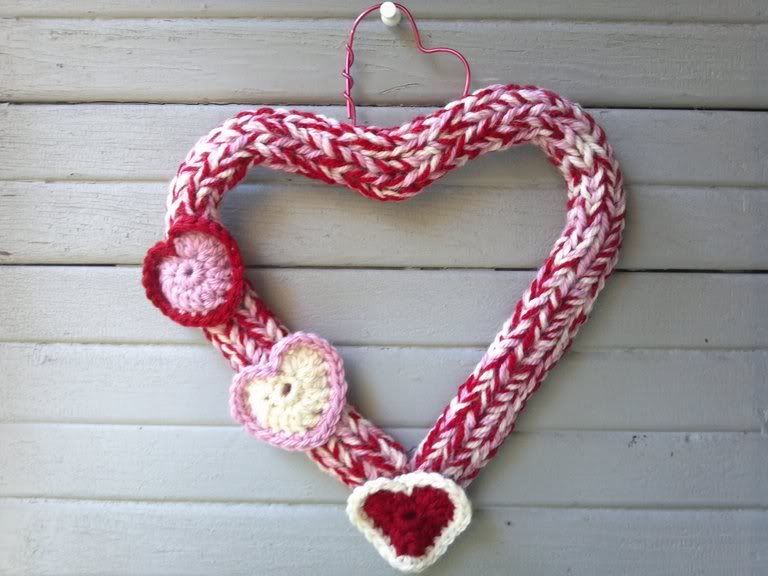 I hope you enjoy give this tutorial and perhaps give it a try!!!
Happy Valentine's Day!!!