I am super excited to participate in this Month's
Pinspired and Rewired
Blog Series contest. This month's Theme is my latest craft passion;
Washi Tape.
For this contest, the project must be inspired by a Washi Tape project found in Pinterest. The Linky Party Contest will be held from May 18 -23.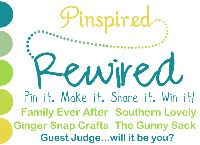 The Hosts are:
Southern Lovely,

Family Ever After,

Ginger Snap Crafts,

and

The Gunny Sack.
My project inspiration came from a Washi Tape Tile Coaster project I pinned from
DesignsDreamsJapan.com
I modified the project by creating sweet Cupcake and Ice Cream Cone images from Washi Tape which I applied to the center of each tile.
Let's begin.....
Materials:
4 - 4" Square Ceramic Tiles; purchased at Home Depot for 16 cents each.
Washi Tape
Scrapbook Paper - Photo Burlap (design name).
I was fortunate to find this paper at Michaels, which resembles an ice cream cone's texture.
Contact Paper
Tracing Paper
Mod Podge/Foam Brush
Single Hole Punch
Ribbon 2" Reach Punch by McGill, purchased at ACMoore.
Pair of Tweezers
Polyurethane - I used Minwax Clear Satin
Small Paint Brush
Self Stick Heavy Duty Felt Circles

Graphics. I found the Cupcake and Ice Cream Cone images online.
Instructions:
Clean your tiles with bathroom cleaner to get rid of any dust. Let the tiles dry completely.
Start adding your Washi Tape across the tiles.

Trace your Graphics using the Tracing and Contact papers by creating layers. Lay the contact paper with backing facing up; add tracing paper and finally your graphics.
Flip Contact paper over. Apply Washi-tape to cover your traced graphics. For the Cupcakes and Ice Cream Scoops I used Washi Tape. For the Cones, I used the Scrapbook paper since I did not have any brown Washi Tape.
Cut your graphics around the traced lines. For the Cupcakes and Ice Cream Cones I cut each section individually separating the scoops from the cones; the frosting from the cupcakes.
For the Cupcake Sprinkles and Ice Cream Toppings, I applied Washi Tape to a piece of Contact Paper and punched the pieces using the Single Hole and Ribbon Punches. To separate these small pieces from the contact paper, I used the tweezers.

Begin attaching your graphics in sections. The cones were applied using Mod Podge. The Ice Cream Scoops, Cupcakes and Frosting were simply taped to the tiles.
Apply the Sprinkles and Toppings randomly over the Scoops and Frostings.
For extra durability, apply 2-3 coats of Polyurethane all over the tiles. Let dry between coats.
To protect your furniture from the tile's harsh bottom, I applied a felt circle to all four corners.
And here they are...
I now have a cute set of Tile Coasters, perfect for those Summer dinner gatherings. I hope you give this tutorial a try.
Happy Pinning!!!
Linking to: