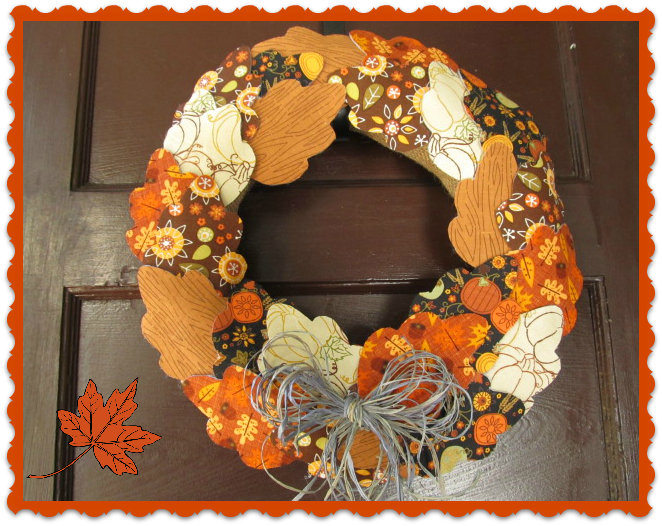 The crisp
AUTUMN
days are here!!!
F
A
L
L
is my favorite season of the year. I love the vibrant earthy colors and the decorations that transform any home into a Bountiful Harvest.
I love the
Rustic
look of Burlap. To celebrate the Season I decided to create a Leaf Wreath to dress up my front door for welcoming
FALL.
I combined a Straw Wreath, Burlap and Fall Fabrics to create my wonderful and simple Fall wreath.
Here is what you will need to make this wreath.....
Materials:
14" diameter Straw Wreath
Burlap
Fabrics - I purchased five different

Fall

prints; 1/4 yard each
Fusible Fleece - purchased at Joann's Fabrics
Leaf Pattern
Tracing Paper
Hot glue gun and glue sticks
Natural Raffia
Sharp pair of Scissors
Sharpie
Directions:
Cut Burlap into long strips. I cut 4 strips measuring approximately 36" each.
Wrap wreath with Burlap strips. Tack with hot glue gun as you wrap strips around the wreath.

Fuse Leaves:

Cut fabric in half, measuring approximately
9" x 21". You should be able to fit 5 leaves on each panel. Save the second panel for other projects.
Following manufacturer's instructions; fuse fleece to wrong side of each fabric panel.
Trace and cut your Leaf Pattern. Use the pattern to trace it on the fused side of the fabric. I used a sharpie to trace the leaf pattern. Cut fused leaves inside the tracing lines.
I cut 25 leaves (5 of each fabric panel).

Assembly:

Starting at the center top of the wreath, begin attaching the fused leaves using the hot glue gun; overlapping them as you go.
Continue adding all the leaves until the wreath is completely covered.
Gather several lengths of Raffia and tie to form a Bow. Trim ends and glue to the wreath's bottom section.
And here it is.... my colorful
FALL
wreath is ready to be displayed.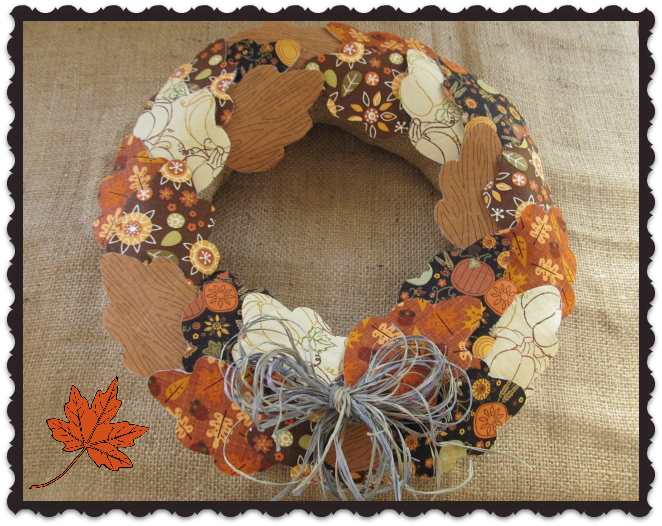 I hope you give this tutorial a try.
Linking to:
Today's Creative Blog
debbie-debbiedoos