Happy Spring to all you!!!! I am extremely excited to participate in the
Conceptual Knitting Series, #2,
"The Social Knitwork Scarf",
hosted by
Leafcutter Designs.
The Social
Knitwork Scarf
is a fun way to bring together my Love for Knitting and my Social Networks. The fun begins when my Friends, Family and Acquaintances help me design a Scarf which will be knitted in stripes of four colors; designated to the most popular social media:
Facebook

;

Twitter

;

Pinterest/Gmail
and
Blogger.
The Colors they will be choosing from are: Cherry, Silver Blue, Pumpkin and Colonial Blue.
I will knit rows as the comments arrive with the colors they have chosen, until the Scarf reaches the length I desired.
Materials:
Worsted Weight Yarn in four colors
Knitting Needles - Size 8
Instructions:
Cast on 32 stitches in the color each person chose and knit every row in Garter Stitch.
Continue knitting rows in Garter Stitch in the color choices as they arrive for desired length.
Please pick a color and tell me why??
Leave me a comment with your color choice. Thank you for participating in this Fun Social Network project.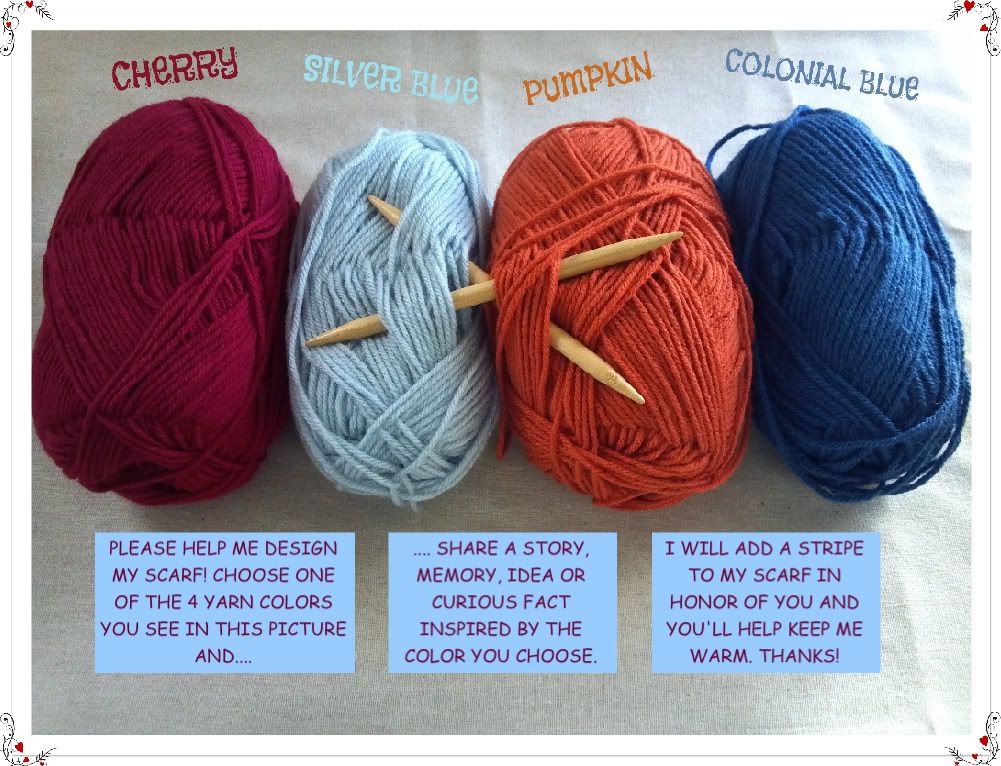 My Social KnitWork Scarf will in some way be part of all of you and I will cherish it forever. Happy Easter!!!