Ohhh Pinterest!!!! What an addictive site. Pinterest is a great source for Ideas and Inspiration. On January 9th, 2012, the
EtsyMom
team posted the Valentine's Day DIY Pinterest Challenge. Each participant needed to search and pick a DIY Valentine's Day project in Pinterest, make it and write a blog post. The project would be uploaded to the EtsyMom Pinterest Board, from which people would vote on the project they like best. The project with the most "likes" wins.... I started my search for the special Valentine's Pin and decided on this great Project, "Crayon Heart Valentines" from
Whipperberry.com
This project was fun to make and it brought me back to my childhood and the fun I had coloring with Crayons. I gathered the following supplies and I was on my way to start my project.
Crayons - purchased at a Dollar Store. I used approximately 150.
Silicon Heart Shape Mold - purchased at Walmart
Ready made Heart Shape stock cards - purchased at Michaels
Glitter
Varigated Crochet Thread
Hot Glue Gun and glue sticks
Valentine's Day themed stamps, purchased at Michaels
After an hour and half of removing the Crayons wrappers and breaking them in small pieces, I came up with these color combinations.
Now it was time to bake the Crayons!!!! The Hearts baked to a perfect shape!!!!
To decorate the Hearts, I used Red Ink and stamped the Cards with two different stamp designs. For the final touch, I used Varigated Crochet Thread. I wrapped the Hearts in an asymmetrical fashion and hot glued the back to the Card Stock.

And here they are, the finished Valentine's Cards....
I found these cute Miniature Heart clothes pins at Michaels, which were perfect to Hang my Cards in Twine and showcase them as a Garland.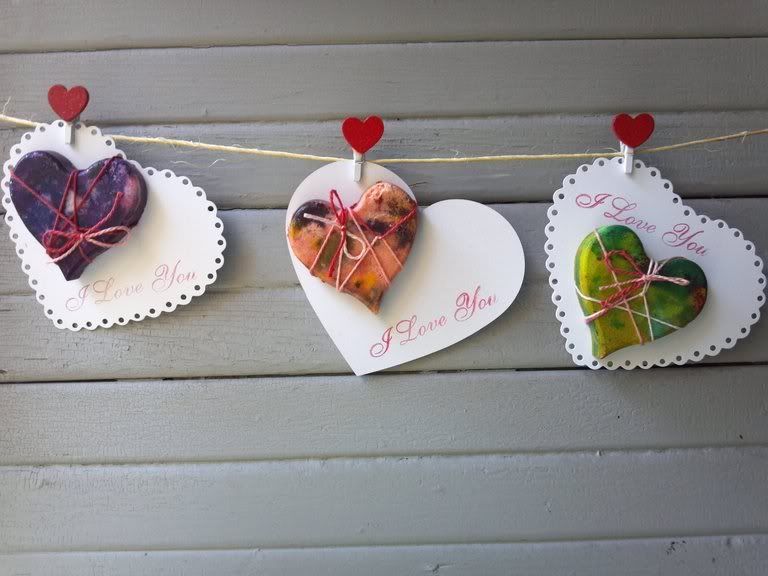 I hope you love my Valentine's Day cards. Come on over to vote for your favorite project.
Happy Valentine's Day!!!!