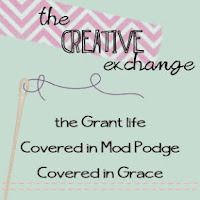 I found my project's inspiration from Brooke's
"Quotey Thingies"
board. This board is filled with inspirational quotes and Subway Art. After browsing this board, I decided to create a Christmas Subway Art Canvas, to carry on the
Christmas
in July theme.
The Hosts are:
The Grant Life
Covered in Mod Podge
Covered in Grace
Materials:
12" x 12" canvas

Acrylic Paint. I used Social Art Working in Burnt Umber; a specially formulated acrylic paint for Canvas Art, purchased at Joann's Fabrics
2 Foam Brushes
Mod Podge
12" x 12" Scrapbook Paper
Paper trimmers or scissors
Directions:
Paint the Canvas including the sides and all around the edges. Let dry 20-30 minutes.
Trim the scrapbook paper a bit smaller than the canvas; about 1/8" on all sides.
Apply a thin coat of Mod Podge to the back side of the scrapbook paper and onto the canvas.
Apply scrapbook paper to the canvas. Smooth any bubbles with the brush or a credit card.
Apply a thin layer of Mod Podge over the top and edges of the canvas. Let it dry 5-10 minutes.
On a flat surface, place canvas facing down on a piece of wax paper and smooth any bubbles from the back side.
Wait at least 25 minutes to dry before displaying your masterpiece.
My canvas is ready for mailing. I thought I send Brooke a sheet of Stickers and 2 magnets she can personalized to her liking.
And here is my wrapped handmade gift. I can't wait to find out how Brooke liked her gift. I enjoyed participating in this Swap and looking forward to others in the future.
Merry Christmas
in July!!!
Linking to:
Today's Creative Blog