Christmas is my favorite Holiday. Christmas decorations make my Heart Happy!!! My favorite Christmas decoration theme is Gingerbread. Over the years I have collected Dolls; Ornaments; anything Gingerbread. This year I wanted to make a Christmas Wreath made of foam covered Yarns. While shopping for decorative napkins, I found this wonderful Napkin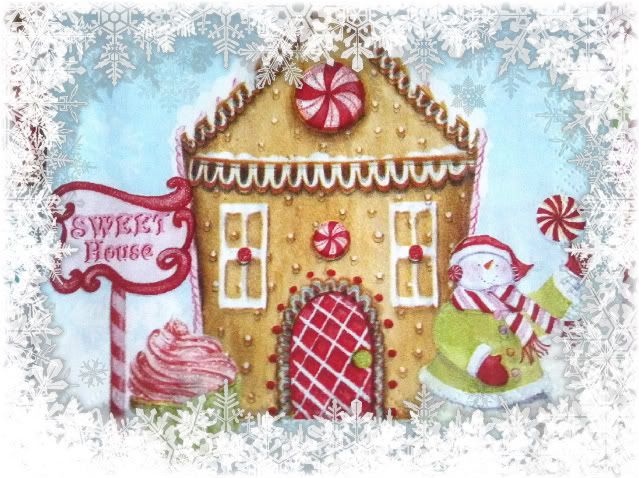 featuring this awesome Gingerbread Wonderland design. This is all I needed to get me inspired. I decided to create a Yarn Wreath based on this awesome Color Scheme. My Yarn Wreath measured approximately 10 inches. With much luck, I found the yarns to help me obtain this Color Scheme.
Supplies & Tools:
Aleene's Quick Dry Tacky Glue (available at ACMoore, Michaels, Walmart)
Elmers Craft Bond - Spray Adhesive
12 Styrofoam Brand 2" foam Balls
Bamboo Double Point Knitting Needles, Small Stitch Holders
Yarn, 1 skein of 6 different colors. I used the following:
1. Caron Simply Soft Heather; Truffle
2. Michael's Loops & Threads Impeccable; White & Soft Fern
3. Red Heart Designer Sport; Blush Rose
4. Vanna White; Rich Deep Purple-Pink & Light Pink
2.5" Wide Ribbon for Bow
3 11/2" Wooden Letters; J O Y
Pink Glitter
Toothpicks
Instructions:
Wrap foam balls with yarns, adding small amounts of Aleene's glue as you go to hold yarn in place. Cover foam balls completely before cutting off yarn. Add glue to end of yarn and tuck under to secure. Allow to dry. Continue wrapping foam balls for a total of 12 balls
Once all foam balls are covered with yarn, arrange in a circle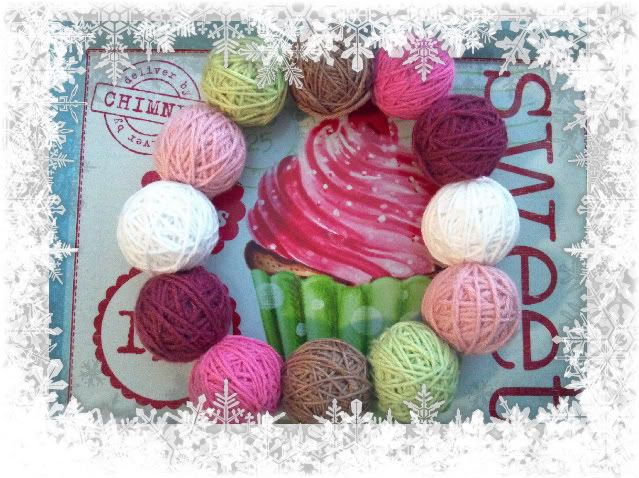 If pleased with the arrangement, apply a small dot of glue to one ball and insert about 1/4 of one toothpick in center. Add glue to second ball and insert other end of toothpick to form a two-ball section
Continue forming two-balls sections to complete six sections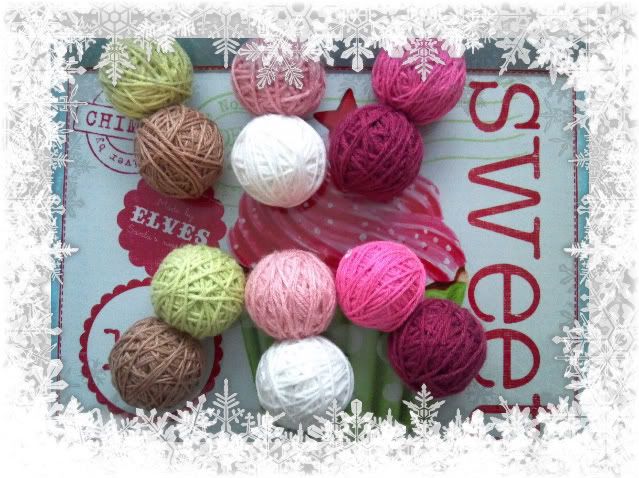 To form the wreath, glue sections together, let dry
Spray Adhesive over the Wooden Letters and apply Glitter; let dry
Crisscross Knitting Needles through a yarn ball on the bottom of the wreath
Make bow with the Ribbon and attach on top of Knitting Needles
Glue Glittered Letters on either side of wreath
Pin stitch holders on yarn balls as desired
Your Wreath is ready to be part of your Winter Wonderland.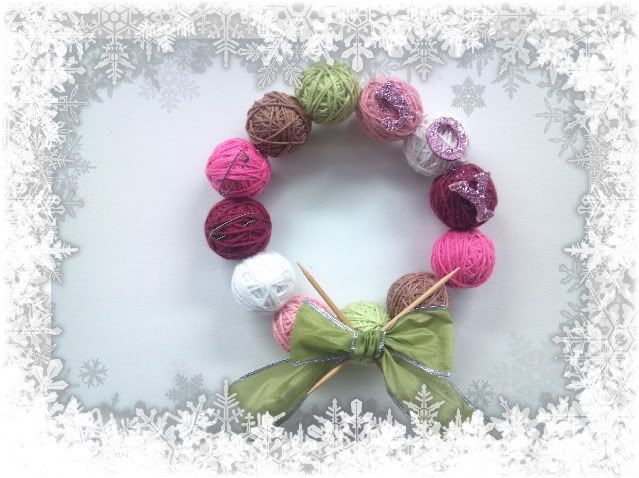 Happy Holidays!!!!